Open since 2010, A Small Print Shop is part of Denver's tight-knit screen printing community. As Colorado's vibrant economy has grown, A Small Print Shop has grown alongside it.
"It's a fun area to be a part of. There's a handful of great print shops and enough business to sustain everybody." Denver has Superior Ink, Denver Print House, and A Small Print Shop – just to name a few.
Printing for local restaurants, breweries, dispensaries, and tech companies, A Small Print Shop's ironic name suits their humble brand. They're hardly small.
Don't let the humor in their logo, boxes, and imagery fool you. Their well-oiled shop reveals a powerfully organized business. It's obvious that everyone at A Small Print Shop takes their work thoughtfully and seriously.
We visited A Small Print Shop on the first cold weekend of 2019 just before the Denver NBM trade show.
They had some downtime and were able to chat about their unique pricing formula, their rapid growth, their organized and impressive screen printing ink wall, and why they keep a "clean" and "dirty" side of the shop. This is a fun one.
---
"We price for what we're actually doing"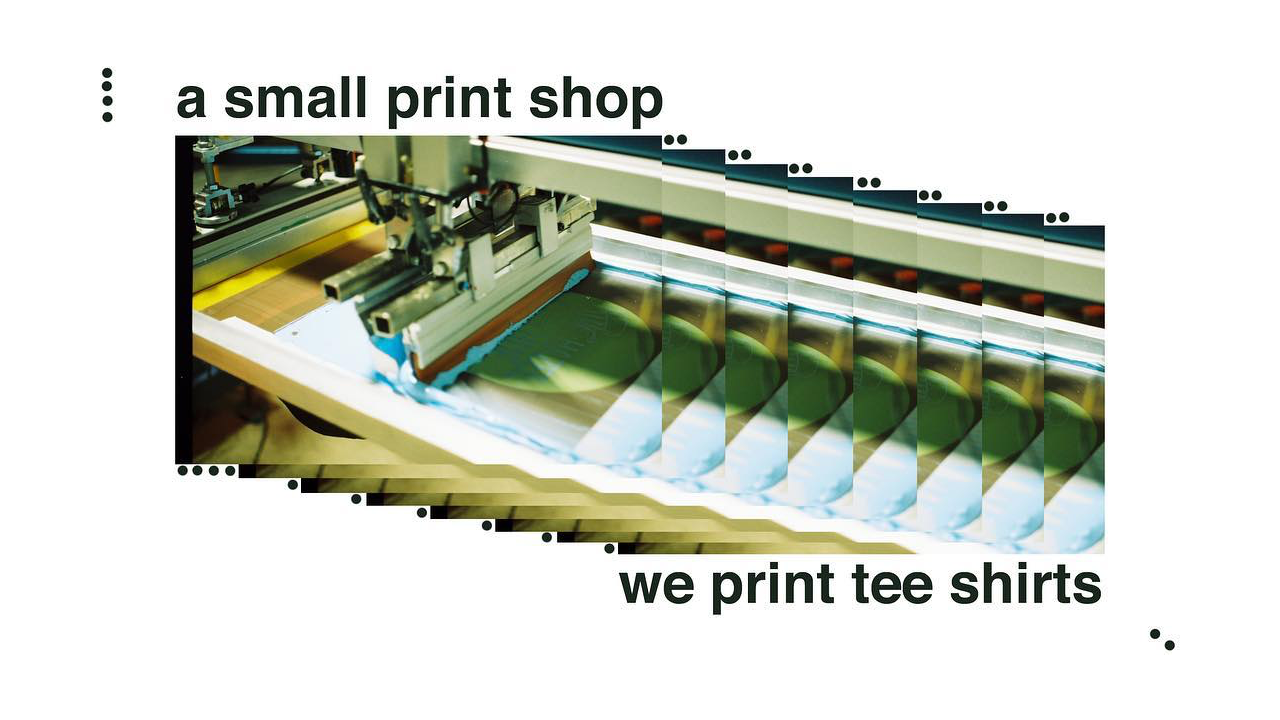 Like Columbus, OH's Tonic Studios, A Small Print Shop has moved away from the traditional garment markup pricing model toward a pure print cost pricing model.
Last time we shared this take on screen printing pricing, it generated a lot of controversy. But we've seen several successful screen printing businesses buck the trend of marking up garments and move toward a formula that accounts for costs and translates that into a single print fee.
Instead of marking up garments, they've crafted a custom pricing formula that covers their costs.
Note: A Small Print Shop charges a small flat percentage markup on t-shirts (10%) and a slightly higher markup on fleece (20%). This is merely to cover spoilage, samples, and other small costs associated with ordering and receiving garments in their shop.
By calculating setup times, shipping costs, as well as how long it will take to do screens and manage inks, A Small Print Shop knows their exact print cost "down to the minute."
They don't use price breaks like most shops do (a progressively larger discount at quantities of 12, 24, 48, and so on). Instead, they use a "breakless" system that will calculate a slightly lower cost for 51 shirts versus 50 shirts.
"We price for what we are actually doing, which is printing shirts. We're not in the business of selling shirts, we're in the business of printing shirts."
As wholesalers and distributors move toward a business model that allows the public to purchase garments at lower wholesale prices, screen printers would be wise to insulate their pricing models against cost fluctuations because of unpredictable garment prices.
Want to develop your own pricing matrix?
Check out our article about how to make a cost-based screen printing pricing matrix (and download your own sample to experiment with).
Learn More
Order begets order: clean and organized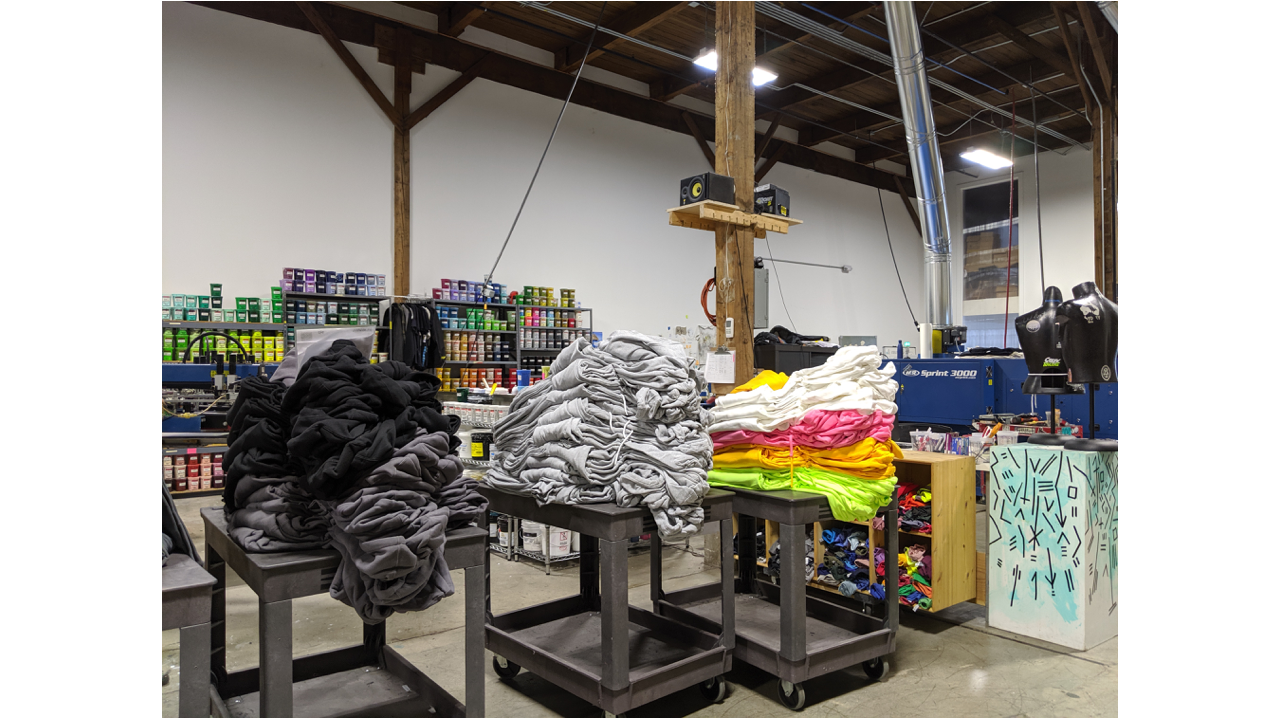 A Small Print Shop has dialed in their organization and cleanliness. The super sharp wall of inks isn't just beautiful – it's practical ink organization.
They're so meticulous about color testing and Pantone matching that it's taken nearly 4 years to get their ink station perfected. Inks are arranged with a uniform labeling system, allowing them to mix-and-match several different ink mixing systems and types of screen printing ink. You'll reach for an ink and know it will have an informative label in the exact same place each and every time.
Todd, their ink and production manager, explains their thinking: "The more we test, the less downtime we have on the press."
The organization doesn't stop with the inks, though.
They also keep a "clean side" of the shop and an "ink side" of the shop. The same applies for their screen room – wet and dirty screens stay on one side of the shop, clean and fresh screens on the other.
That way, garments can be stored in their printing area without fear of ink splashes or errant stains. It's always obvious whether screens are "coming" or "going." All of the ink and "dirty stuff" is kept completely on the other side of the shop.
Standard operating procedures and clear, established systems for routine tasks are a major source of efficiency gains in screen printing. A Small Print Shop demonstrates that vividly:
"When certain things are uniform, everything around it becomes uniform as well."
"Every little detail should be foolproof"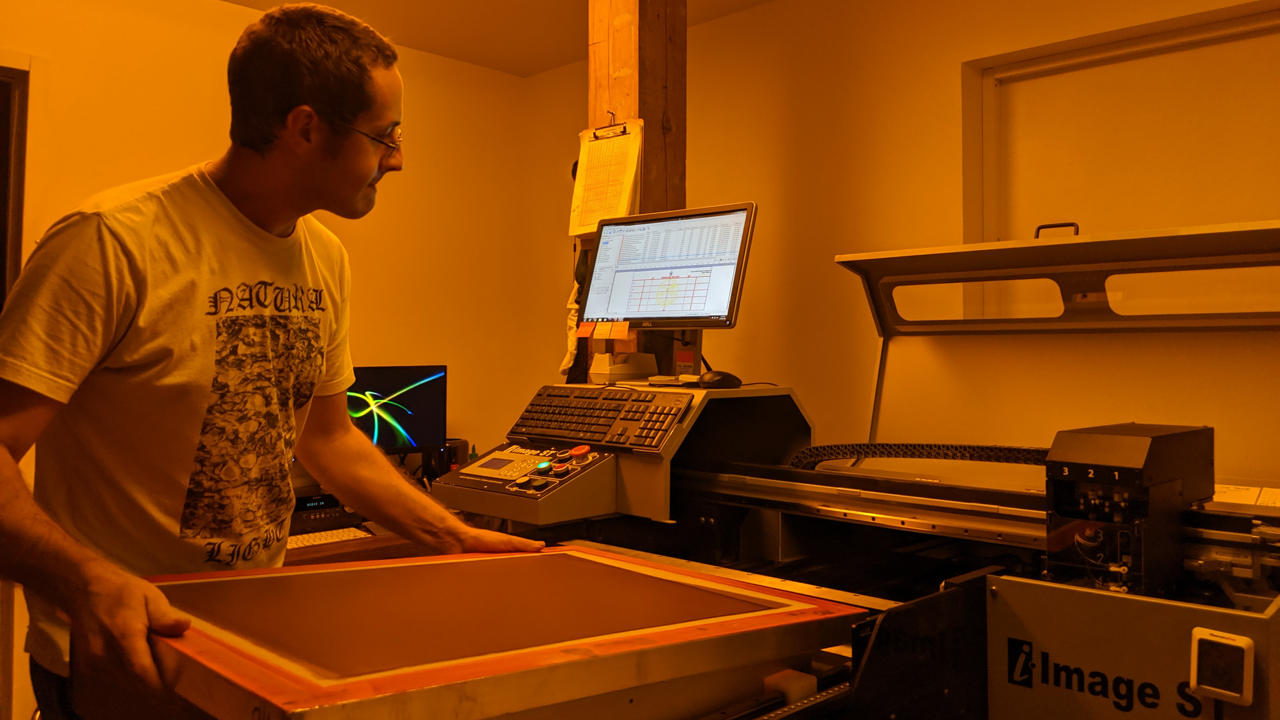 Meticulous attention to detail is always a screen printers' friend. It's amazing to see how A Small Print Shop has balanced their fun and artistic side with a focus on efficiency.
A Small Print Shop's clean direct-to-screen setup lets them print 60+ screens a day, with their screen technician joking that Pride Month is the busiest time in the screen room (since rainbow prints require so many screens). Typically, they expose between 30 to 50 screens during a typical day.
They carefully document every detail of every job for replication later (and offer a year-long discount on reprinted orders). The idea is to let the processes take charge, documenting every aspect of each print job:
Dryer speed and curing times

Inks used (as well as any additives)

Colors used

Garments

Screen mesh
This lets them use their time as efficiently as they use their space – and helps them prevent mistakes from recurring. They use digital proofs for client approval and an in-shop manual press for the (very rare) press check.
Riding the wave
Denver is one of the fastest-growing cities in the US. Virtually unrecognizable from just 10 years ago, A Small Print Shop has benefitted from the booming region's vibrant economy.
Breweries, tech companies, restaurants, and dispensaries comprise most of A Small Print Shop's business. The boon in local commerce in Denver has allowed them to take a more communal approach to their sales and marketing – they've enjoyed mostly organic growth without a big focus on outside sales.
"The community aspect helps [...] we're not fighting over business and being super cutthroat and competitive."
"This space is actually about three times what we had before," they mention, a nod to the business' outdated moniker. Small no more!
After three years in a new facility, everything is still clean and appealing. They've got the makings of a super appealing retail space, but their facility doesn't have much foot traffic just yet. However, the shop is adjacent to a DIY skateboarding spot – letting the team blow off steam and putting them in touch with enterprising skaters and the local skate scene.
A very cool box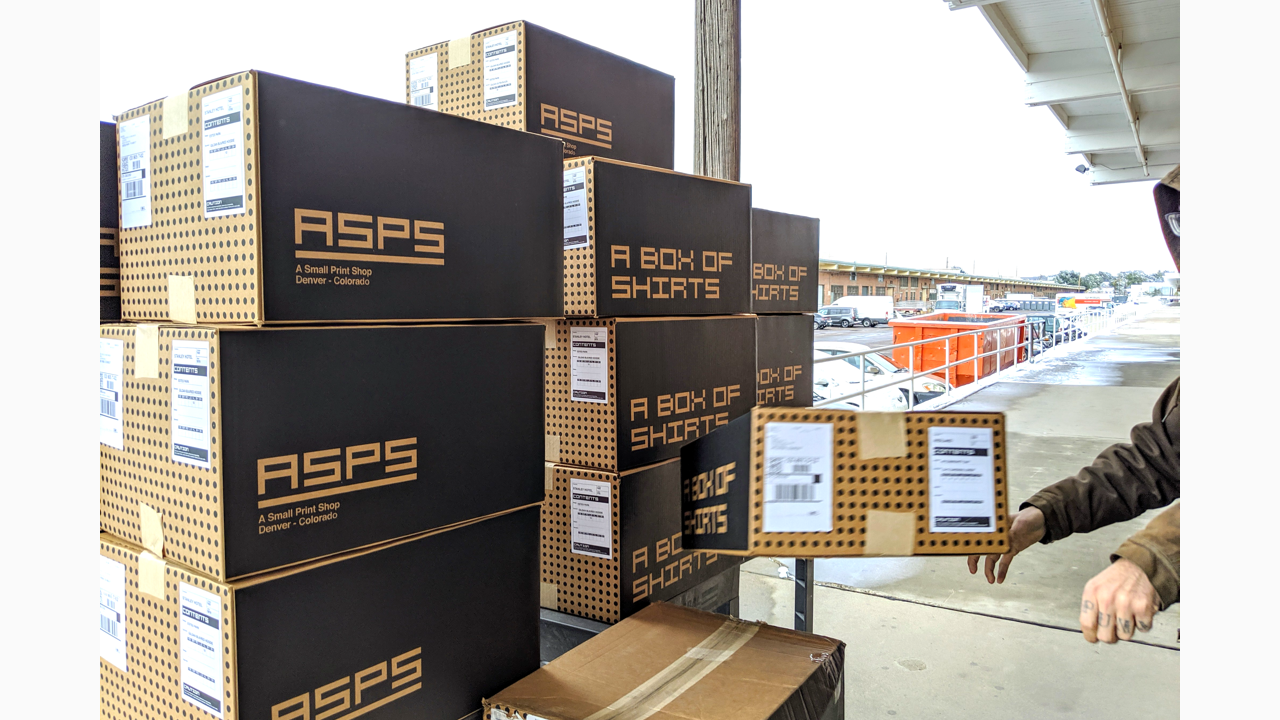 With most of their growth driven by referrals and word-of-mouth, A Small Print Shop is looking toward the next phase of their growth and development. They're hiring more people, beefing up their sales efforts, and improving their marketing outreach.
But one thing they did perfectly from the start: their very cool boxes.
While we've sung the praises of custom printed boxes before, A Small Print Shop has taken the idea to a new level. Their boxes are super simple but very powerful, a direct expression of their wry branding: "A Box of Shirts" indeed.
Since they've recently rolled out free shipping to the continental USA, we imagine these boxes will travel far and wide in the coming years.
---
A huge thanks to the team at A Small Print Shop for taking the time to chat with us and candidly discuss their amazing business. We're super thankful to have been part of A Small Print Shop's rapid growth.
They use Printavo to help track orders, schedule their jobs, check for quality, capture important details, collect payments and much more. We're really looking forward to their next chapter – there's sure to be more growth to come in the Denver area and the Colorado screen printing community.
Be sure to visit A Small Print Shop on the web and on Instagram!
This was another amazing look inside a growing small business that has crafted a unique niche for itself. The custom apparel industry is one of the last places where creative and driven people can make a name for themselves with little capital and easily acquired skills. That's why we love our Print Hustlers.
We're always looking to visit print shops, tell their story, and learn from their unique experiences. Check out some of the shops we've visited recently:
Want us to visit your shop? Drop us a line. We'd love to come by.